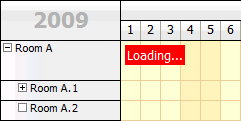 The "Loading..." label is displayed in the upper-left corner whenever a CallBack takes more than 100 ms.
In the JavaScript version it is displayed during progressive event rendering (when scrolling).
Custom HTML
You can override the Loading label HTML using LoadingLabelText property.
Styling
CssOnly=false
The "Loading..." label can be customized using the following properties:
LoadingLabelVisible (boolean)
LoadingLabelText (string)
LoadingLabelBackColor (Color)
LoadingLabelFontColor (Color)
LoadingLabelFontSize (string)
LoadingLabelFontFamily (string)
CssOnly=true
Using CSS: *_loading class.
Active properties:
LoadingLabelVisible (boolean)
LoadingLabelText (string)